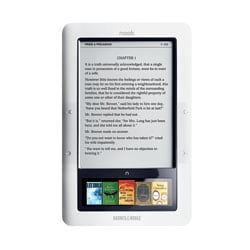 Overstock.com is offering a refurbished supply of Barnes & Noble Nook 3G + Wi-Fi e-readers for $99.99. This is the same price that Best Buy is offering for the Nook Wi-Fi version brand new, however Overstock's version includes free access to AT&T's 3G network for most functions.
Adding a $1 filler item to your shopping cart pushes your total over $100, which then enables you to use coupon code 149418 during checkout.
The Nook e-reader line is powered by a heavily-customized and embedded version of Android, though it is not compatible with standard Android applications. Note that the refurbished version of the Nook only has a 90 day warranty.
Update: Sold out.