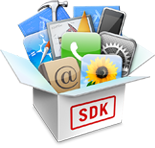 Apple's recent update to the iPhone SDK Beta has added a much-needed tool to facilitate program development and greatly simplifies steps for developing user interfaces for applications.
The Native Interface Builder is a  visual editor that negates the need for outside programs and libraries that were usually needed to design and implement user interfaces for native applications on the device, which led to developers blindly coding each change, compiling, and testing the application, which was tedious and time consuming.
The updated application is available now from the iPhone Developer Center and requires registration to the Apple Developer Connection for download, which is free.