In keeping with the release schedule leaked by various roadmaps, Sprint has released four of its five expected devices today in all sales channels with the most highly anticipated device being pushed back to the middle of the month in the Touch Diamond.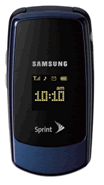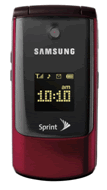 The Samsung M220 and M320 feature Bluetooth, speakerphone, wireless backup support, Vision (1xRTT) access, voice dialing, while the M320 adds a VGA camera with video capture and PictBridge support for printing images directly with a compatibile printer.
 
The third phone released today is the Motorola Renegade V950, which is the first QChat based PTT handset available from Motorola.
The clamshell phone features external media controls, a 2.0 megapixel camera with video recorder, microSDHC expansion slot, Sprint TV and Music Store support, speakerphone, Sprint Navigation support, and an M810F certified bodyshell that is rated to withstand shock, vibration, and rain.
The fourth phone is the Motorola i365 candybar phone for the Nextel network. 
The i365 features access to Sprint's new NFL Mobile Live application, Bluetooth, voice dialing, speakerphone, and the full suite of DirectConnect services on top of its rugged bodyshell. 
The Samsung M220 is now available for $19.99 after $150 instant discount and new 2 year agreement, the M320 at $29.99, the i365 at $89.99, and the V950 is now available for $179.99 before an additional $50 mail-in rebate bringing the total to $129.99 after the same aforementioned terms.
Motorola V950 Product Page
Motorola i365 Product Page
Samsung M220 Product Page
Samsung M320 Product Page