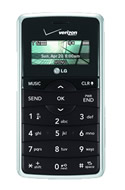 Verizon has launched the LG enV 2. This evolution of the VX9900 enV features much sleeker and more compact dimensions while still retaining all of the functionality the series of devices is known for.
The multimedia device features a revised outer keypad and display with larger dialing keys, while the internal QVGA display has increased in size to 2.4 inches. The QWERTY keyboard has also been revised and the keys have been made larger compared to the VX9900.
The featureset is otherwise unchanged from the previous model with a 2.0 megapixel camera with autofocus and video recorder, Bluetooth with stereo audio support, microSDHC expansion slot with support for 8GB cards, media player, voice control, speakerphone, and GPS support through VZ Navigator.
The device is now available from Verizon Wireless online for $179.99 after a new 2 year agreement before an additional $50 instant online discount, bringing the total to $129.99.